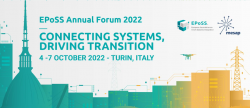 EPoSS will hold its Annual Forum on 4-7 October 2022 in Turin, Italy.
Join and get to know how to build collaborative ECS projects via the Eureka Cluster Xecs. In her presentation, Xecs Director Nadja Rohrbach will highlight such important points as:
countries national support
further brokerage opportunities to create project consortium (EFECS 2022)
useful hints to submit a successful application
Xecs presentation will take place during the "Funding Opportunities and Brokerage" session on day 2, October 6. Find more details in the forum agenda here.
EPoSS Annual Forum 2022 brokerage opportunities will be organised to network with especially SMEs, start-ups and young researchers. As part of the event and its inspiring and informative sessions from the domain speakers, latest developments' presentations, funding opportunities session (including Xecs), the EPoSS Start-up Award will take place on October 6, 2022. The participants will present their innovations in early or mature stages of development, concepts, ideas or business cases.
This year's event is co-organised and hosted by MESAP Innovation Cluster, EPoSS member and strategic partner.
For more information on the program, speakers and registration see the EPoSS website.
Registration will be soon available here.